ANNOUNCEMENT OF WINNERS - FEATURE FILMS - PART 1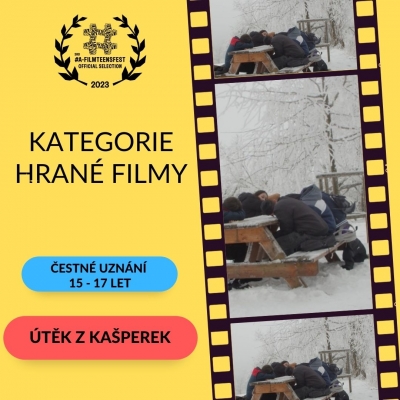 The Feature Films category was great! No less than 39 competition pictures made us very happy! And we will now introduce you to all the winners.
Jurors Antonie Formanová and Tomáš Hanák selected one film in the age category from 11 to 14 years, which received honorable mention. That's the Big Two. Czech film created by a group from ZUŠ Mikulov.
The feature film is probably the most difficult filmmaking discipline. That's why we're very happy that the authors are getting into them. In the 15-17 age category, the film Beth by Ava Bounds won the first prize. She said this about her film: "Beth is a film that at every step managed to avoid the restrictions brought about by the coronavirus pandemic in 2020 - it was probably destined for us to film it. Personally, I have always been interested in historical dramas and stories of British Victorian psychiatric hospitals - for me they hold a piece of forgotten history and fascinating stories."
The pandemic has affected all of us. It limited movement, it limited lives, it limited everything. And she also made her way into a lot of films by our creators. One of these films - Death by Handshake - won 2nd place in the category of feature films from 15 to 17 years old. American creator Hudson Flynn shares his thoughts and insights with others.
What if we ran away to Germany? These are the questions asked in another award-winning film. It is called Escape from the Children´s Home. The film was created by 10- to 17-year-old authors from the Children's Home in Kašperská Hora as part of the Windows to the World project under the guidance of lecturers Barbora Chalupová and Marie Magdalena Kochová. Windows to the World is a project of film workshops organized for children from children's homes by the company Adonai for people. The workshop took place in Kašperské Hory from November 2022 to February 2023.