THANK YOU ALL FOR YOUR FEEDBACKS!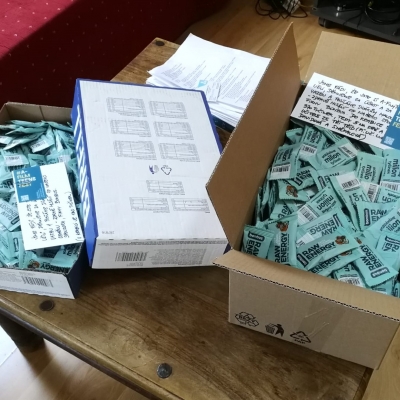 The opportunity to send us a satisfaction survey ended yesterday. We selected 2 groups who attended the festival this year as spectators and also sent us very nice feedback. We are sending them boxes of Bombus bars.
One is the Elementary School in Olomouc, where 3 teachers prepared an interesting weekly program around A-FilmTeensFest for the children in their classes - they created posters, tickets, evaluation tickets, talked about ethical behaviour at the festival or concert. Each day, the teachers then selected some films and talked about them with the children in class, for example about the professions needed to make them. After watching the films, the children rated them in a prepared table and discussed them. In one class, they worked together to develop their own story, creating a script and drawing it out, which the children really enjoyed. In another class, pupils made their own gifs using tablets and an app.
A similarly interesting use was made of the festival at the children's club in Růžďka, where, in addition to online film screenings and analysis using worksheets, the children installed the Stop motion programme on their phones and tried animating objects in the classroom, subtitles, puppets, teaching aids, etc. This produced several interesting pieces in one day and the school is thinking of organising their own festival of animated films by their pupils. Maybe next year they will send the best ones to AFTF as well :)
This makes us very happy and we feel so touched, in cases like this we are reassured that what we are doing is meaningful. Thank you all so much for your feedback!