ANNOUNCEMENT OF WINNERS - CATEGORY UNDER 10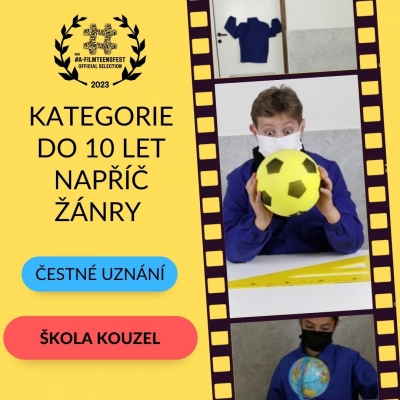 We have already presented the best film in the youngest category. And now it's the turn of three films that received honorable mention. In the under 10 category, the judges were Antonie Formanová and Tomáš Hanák. They had a very difficult time choosing from 12 very beautiful films. But these pictures won.

Hoover
Hoover image is from Estonia and we have already talked about it once in our articles. It was created by children from the CREATIVE SPACE group in Tallinn (Creative Space already won one award ☺️ - see here)

School of magic
Another award goes to Italy thanks to the film School of Magic. It was created by a group of children led by Rafaella Traniello from Corti di Ponte in Padua. The film deals with the magic of animation. One day at school takes an unexpected turn thanks to a bit of magic. It is a short animated film made with the pixilation technique about the importance of keeping your imagination.

This film is the student project "Giuliani" of the 5th grade students (10-year-old authors 5C) of the Istituto Comprensivo Ponte San Nicolò elementary school in Padua in the academic year 2021-2022. This short film was created as part of regular school teaching with the help of school teachers as part of a film education project that promotes the use of the film medium as a teaching method.

Mega mega mega mega party
The title of this movie could refer to a lot of things. The last award goes to Belgium to the participants of the CAMERA-ETC workshops. from Liege. Children between the ages of 6 and 9 earned the award and we are already looking forward to what they will send us next year.

"To make a good story, you have to have a little imagination and a good character." Mega mega mega mega party is a short animated game about a little dragon who wants to throw a giant giant giant giant party and the fact that every story starts on a blank page.

Camera-etc was founded in 1979 as a place for the creation and production of short animated films. Today it is a recognized production workshop and center of artistic expression and creativity of the French-speaking community in Belgium, organizing creative group workshops for children, young people and adults not only in Belgium but also in other countries.