ANNOUNCEMENT OF WINNERS - THE VOJTECH JASNÝ AWARD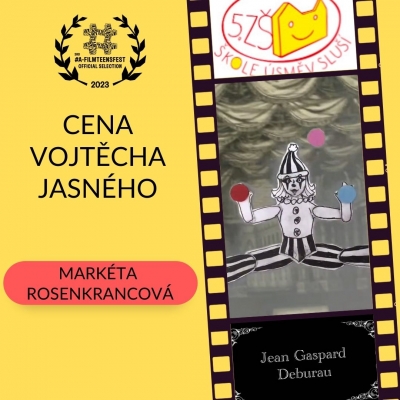 And it's here, we start announcing the winners of our awards. The first of these will be one of those main prizes. Vojtěch Jasný Award for his long-term systematic contribution to the audiovisual education of Czech children.

This year, it was awarded to Markéta Rosenkrancová, a teacher and leader of the film club from ZŠ Mnichovická in Kolín. Their film is Jean G. Deburau. ???? But you can find much more on the YT Channel Elementary school Kolín V.

What is the movie about? Jean Gaspar Debureau and his relationship to Kolín through the eyes of fifth-grade elementary school students in Kolín. The short animated film bridges the Czech Cologne and the Parisian metropolis.

Let's take a little look inside the film. It was created by 10- to 14-year-old elementary school students in Kolín during school hours during computer science and art education. The film was intended to pay tribute to Jean Gaspard Deburau, a native of Cologne, in whose honor the international Gasparáda theater festival is held every year.